What is #CookForUkraine?
As soon as the war against Ukraine started breaking out, a group of friends had an idea that could help people. Less than a week after its creation, this idea has turned into a global campaign. Celebrity chefs, restaurants and people from all walks of life prepare, cook, eat and share Ukrainian and Eastern European dishes and recipes, with the common goal of raising funds for those in desperate need.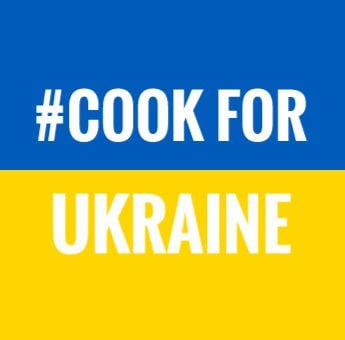 The campaign was co-founded by Instagram sensation @clerkenwellboy who co-founded the #CookForSyria campaign a few years ago which went on to raise over £1million for charity.
#CookForUkraine is a powerful reminder that food is a wonderful way to connect people in times of crisis. The movement has already generated over £50,000 in donations in its first week alone, but they need your help keep spreading the word…
How to participate in #CookForUkraine
Host a bake sale or dinner club
Put on your apron and step into the kitchen… Host your own pop-up, bake sale or charity supper club and share homemade meals with friends, while raising vital funds for UNICEF. Discover a multitude of Ukrainian and Eastern European recipes, such as Olia Hercules apple cake Where Alissa Timoshkina's borschton the #CookForUkraine JustGiving page.
Discover many other recipes you can make here.
Dine at participating restaurants
Hundreds of restaurants, hotels, cafes and bars across the UK are now involved in the campaign, including Big Mamma Group, Soho House and Ottolenghi, to name a few. For a full list of participating restaurants, go here. Voluntary donations can be added to your food bill or you can order specific menu items with proceeds going to the JustGiving fund. Each venue will vary, so be sure to ask how to donate when dining.
If you own a restaurant or café, you can also get involved. Simply head here for more information on how you can offer support.
Make a donation
Give all you can to help this worthy cause. Donations can be made through the JustGiving pagewith proceeds going directly to UNICEF UK's Ukrainian appeal, aimed at supporting displaced children and families.
Share your voice and support on social media
Use the powerful social media tool to share information around the #CookForUkraine campaign. Post photos from your bake sales or dinner clubs, or tag participating restaurants in your posts whenever you dine with them. Be sure to use the hashtag #CookForUkraine with your stories or posts, to ensure the word can spread as far as possible.