The breathtaking dinner menu
We're kicking things off with a dinner menu so full of flavor, you'll be begging for leftovers… There's something so simple and delicious about roasted tomato soup, and this recipe comes with croutons rich in parmesan cheese – qu shouldn't you love? For the main course, impress your guests with a classic French dish – coq au vin. We love this recipe that comes from Alex Hollywood who learned it from his grandmother. The slow cooking process results in a fabulously flavorful, rich burgundy sauce.
Finish your three-course feast with a boozy dessert: this gin and lime custard tart is a hit. Its gloriously bright sunny yellow will lift the mood and this one can be made the night before if you need it.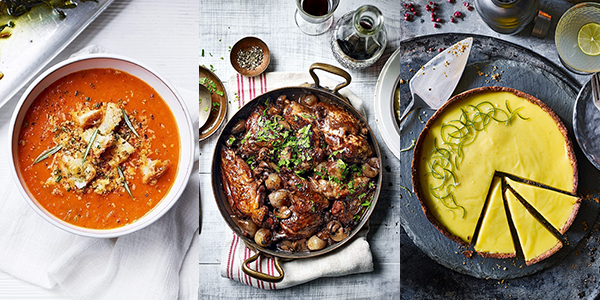 The vegetarian (and vegan) dinner menu
This vegan menu offers flavor and elegance and can be served for lunch or dinner. Start with our Roasted Garlic Pea Soup – it uses readily available ingredients (hello frozen peas) and is literally a wonder to make. For the main course, these wild garlic lasagna are completely vegan and use a cheese and cashew sauce – the crowd will love it! Finally, whip up these simple crème caramels for an awesome dessert you can whip up to applause.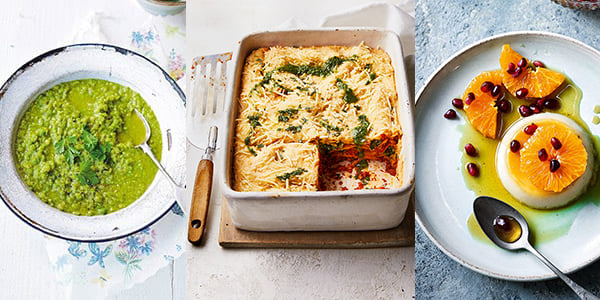 The menu for Mother's Day
Hold on to your hats because this Mother's Day menu might blow your mind. The star of the show is our rhubarb and custard cream layer cake: three layers of sponge cake are sandwiched between roasted rhubarb, custard and topped with cream cheese icing, then decorated with candied rhubarb and white chocolate chips. It's quite impressive.
But before you get to that, give Mom two special classes first. We've kept them light to save room for dessert – top crispy rye buns with hot smoked salmon and this punchy pink peppercorn and vodka pickle salad for a light and easy starter. Then try our Garlic, Sherry and Almond Roast Chicken. It is cooked in a pot with the sherry added after 40 minutes, which creates a beautifully rich sauce.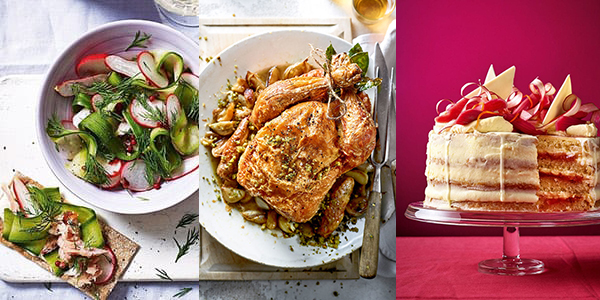 The menu in advance
You thought it couldn't be done, but a 100% pre-prepared three-course meal IS possible. To start, prepare our smoked mackerel pâté (literally takes 5 minutes!) and serve with the pickled radishes. The latter is optional, but they really add a splash of color and flavor to the dish. Then this slow-braised lamb shoulder with candied lemon makes a main dish (serve with flatbreads, salads and more). Plus, if you cook ahead, it will keep in the fridge for 2 days!
Finally, allow us to introduce you to the mini pavlova. The advantage of meringues is that they keep very well. Make ahead for these mini coffee pavlovas. Just before serving, whip the coffee and mascarpone cream and decorate.