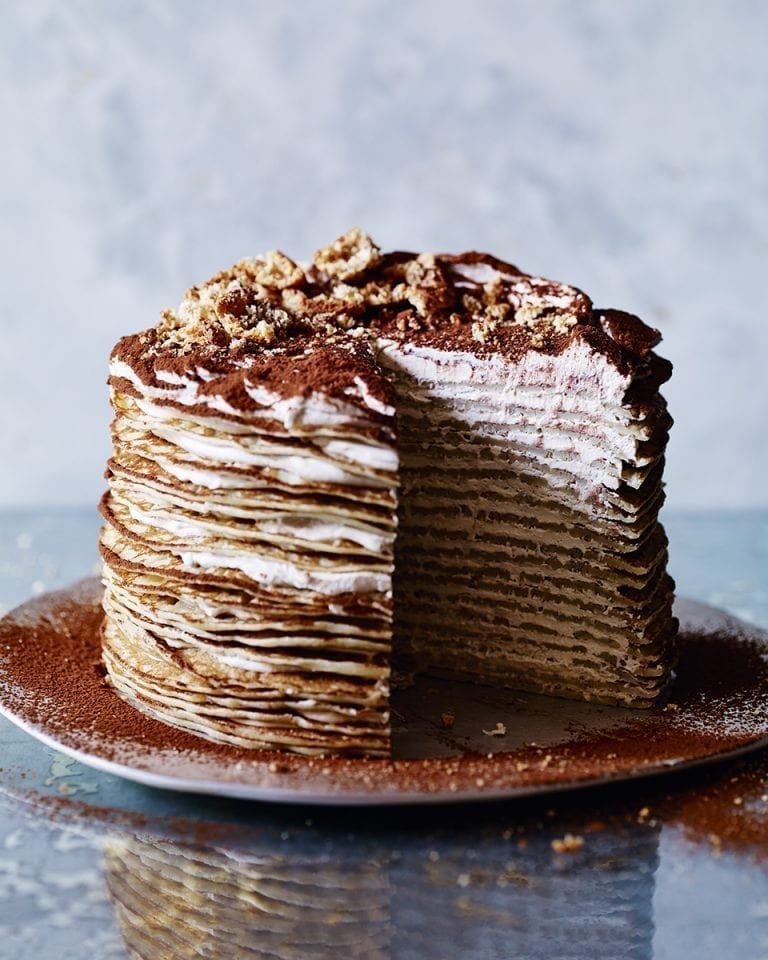 For 14 to 16 people






Preparation time 30 min if you use purchased pancakes or 1h30 if you make your own
Tiramisu meets pancake in this decadent, yet surprisingly easy layer cake. Serve at a dinner party with lots of cream and you will impress your guests.
Ingredients
For the pancakes
12 large free-range eggs
500ml whole milk
250 ml liquid cream
2 teaspoons vanilla extract
250g plain flour
½ teaspoon fine sea salt
Unsalted butter for frying
For filling
1 kg mascarpone
140g icing sugar
3 teaspoons espresso powder dissolved in 75ml hot water, cooled
5 tablespoons cognac
200 ml fresh cream
Cocoa powder for sprinkling
20 g amaretti biscuits, crumbled
You will also need (if you are making the pancakes)…
18 cm pancake or sauté pan
Method
If you're making your own pancakes, blend the pancake ingredients (except the butter) in a food processor until combined, then put them in a pitcher. Heat a small knob of butter in the skillet over medium-high heat. When lightly bubbling, pour in enough batter to cover the pan, tilt until evenly combined, then cook for about 1 minute. The pancake is ready to flip when bubbles appear on the surface. Flip with a spatula and cook for another minute. Transfer to a plate and cover with a damp tea towel. Repeat to use the rest of the batter – this will make about 18 pancakes.
In a large bowl, beat the marscapone, icing sugar, coffee and cognac with an electric mixer until lighter and slightly thicker. Add the double cream, then whip until combined and just holding its shape.
Place a crepe on a serving board or plate and spread a little cream with a spatula. Repeat the operation, layering the pancakes and the cream, until all the pancakes are used up, ending with the rest of the cream. Generously dust the top with cocoa powder and sprinkle with crumbled amaretti.
delicious. advice
If time is short, use 18 store-bought ready-made sweet pancakes, about 18cm in diameter (3 x 375g packets of 6, widely available in supermarkets).

Make up to 12 hours ahead without the cocoa powder and amaretti cookies. Cool in the refrigerator, then bring to room temperature before decorating and serving.
Subscribe to our magazine
Subscribe to delicious. HALF PRICE magazine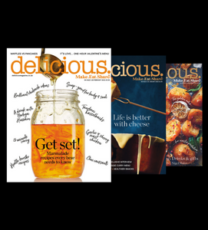 Join our newsletter
Filled with menu ideas, recipes, latest contests and more…
Lost my password
Enter the email address associated with your
account, and we'll send you a link to reset your
the password.
Email sent
If an account was found for this email address,
we have emailed you instructions on how to reset your
the password.
Thank you for subscribing to our newsletter
Now you can stay up to date with all the latest news, recipes and offers.
Subscribe to our magazine
Subscribe to delicious. today for just £13.50 – it's HALF OFF!
[mc4wp_form id="28909″]
Confirmation
We have sent you an activation link,
please click on this link to activate your account.