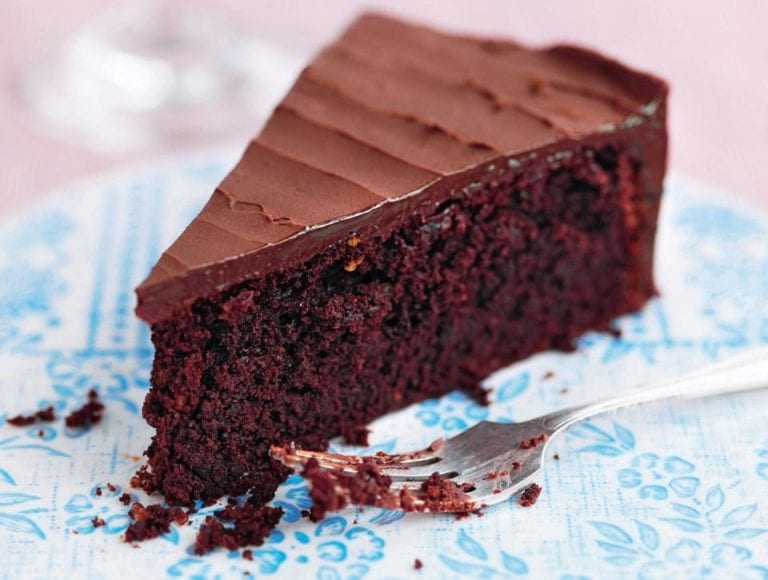 For 10 to 12 people






Takes 20 minutes to make and 50 minutes to 1 hour in the oven, plus cooling
But beets have no place in a cake, we hear you cry! The ingredients in this chocolate beetroot cake work wonders – go ahead and give it a try.
Ingredients
250g dark chocolate, broken
3 large free-range eggs
200g light muscovado sugar
100ml sunflower oil
1 teaspoon vanilla extract
100g self-rising flour
½ teaspoon baking soda
½ teaspoon baking powder
50g ground almonds
250g raw beets
For the icing
150g dark chocolate
100g icing sugar
100g sour cream
Method
Preheat the oven to 180°C/160°C/gas fan 4. Grease a 22 cm diameter cake tin with a removable bottom with a little butter and line the bottom with parchment paper.
Put the dark chocolate in a bowl and place it over a pan of simmering water. Let the chocolate slowly melt until smooth, then let cool.
Place the eggs, sugar and sunflower oil in a large mixing bowl and whisk together, using an electric hand whisk, for about 3 minutes until the mixture is smooth and creamy. Incorporate the vanilla extract, then sift the self-rising flour, baking soda, baking powder and gently incorporate with the ground almonds.
Using a pair of rubber gloves to protect your fingers from stains, peel and grate the beetroot, then squeeze out the excess liquid. Stir the beetroot into the mixture with the cooled chocolate until well blended.
Pour the mixture into the prepared pan and bake for 50 minutes to 1 hour. Cover with aluminum foil if the cake is browning too quickly. Test the cake by inserting a skewer into the center to see if it comes out clean. Leave to cool for a few minutes, then unmold and let cool completely on a wire rack.
For the glaze, place the dark chocolate in a bowl set over a pot of simmering water. Let melt gently until smooth. Let cool, then stir in icing sugar and sour cream until thick, creamy and spreadable. Spread it over the top and sides of the cooled cake and serve.
Subscribe to our magazine
Subscribe to delicious. HALF PRICE magazine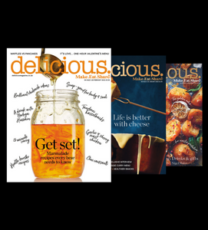 Join our newsletter
Filled with menu ideas, recipes, latest contests and more…
Lost my password
Enter the email address associated with your
account, and we'll send you a link to reset your
the password.
Email sent
If an account was found for this email address,
we have emailed you instructions on how to reset your
the password.
Thank you for subscribing to our newsletter
Now you can stay up to date with all the latest news, recipes and offers.
Subscribe to our magazine
Subscribe to delicious. today for just £13.50 – it's HALF OFF!
[mc4wp_form id="28909″]
Confirmation
We have sent you an activation link,
please click on this link to activate your account.