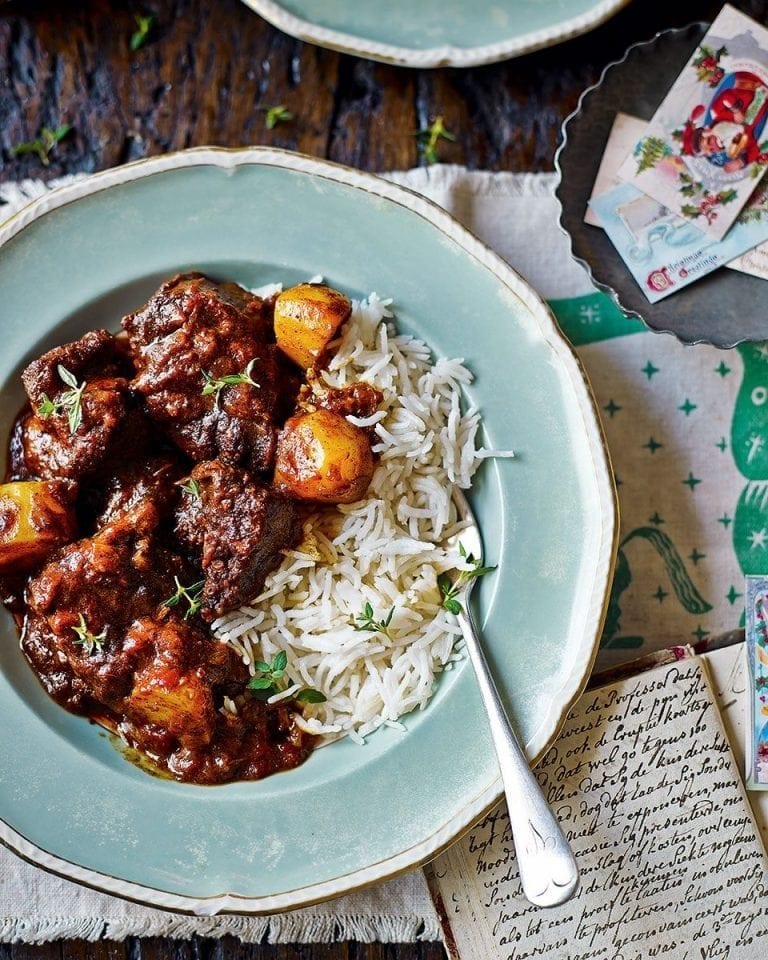 Ingredients
2 tablespoons medium curry powder
1 tablespoon ground allspice
1 teaspoon ground mass
1.2kg British beef shank (from good butchers), deboned, cut into large chunks
Vegetable oil for frying
2 large onions, finely chopped
1-2 scotch bonnet peppers, seeded and finely chopped
6 garlic cloves, crushed
3 cm grated fresh ginger
2 cans of 400g coconut milk
400 g crushed tomatoes
12 sprigs of fresh thyme, leaves stripped, plus extra for serving
6 medium waxy potatoes (about 300g), such as charlotte, cut into chunks
Method
Mix curry powder with allspice and mace in a large bowl. Add the beef, season well and toss to coat. Heat a generous layer of oil (about 3 tablespoons) in a large skillet and brown the beef all over in batches, adding more oil if needed. Transfer the beef to a casserole dish after each batch.
Heat a little oil in the pan if necessary, then sauté the onions and chillies for 10 minutes until they begin to brown. Add the garlic and ginger and the remaining spices from the beef coating, cook for another minute, then add to the pan.
Add the coconut milk, tomatoes, thyme and enough water to cover the meat. Bring to a simmer and cook, partially covered, for 2-3 hours, stirring occasionally, until the meat is very tender. Add a glass or two of water if needed.
When the meat is tender, add the potatoes, taste and adjust the seasoning, then cook for another 20 minutes until the potatoes are tender. Remove from the heat, skim the fat from the surface, then serve with rice and a sprinkle of extra thyme.
delicious. advice
Bake 48 hours in advance and, once cooled, refrigerate. To serve, reheat in the oven until warmed through.

To make more ahead, freeze for up to 3 months, thaw in the refrigerator overnight, then reheat.
Subscribe to our magazine
Subscribe to delicious. HALF PRICE magazine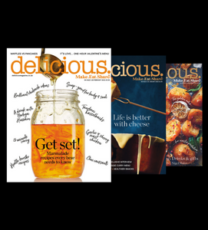 Join our newsletter
Filled with menu ideas, recipes, latest contests and more…
Lost my password
Enter the email address associated with your
account, and we'll send you a link to reset your
the password.
Email sent
If an account was found for this email address,
we have emailed you instructions on how to reset your
the password.
Thank you for subscribing to our newsletter
Now you can stay up to date with all the latest news, recipes and offers.
Subscribe to our magazine
Subscribe to delicious. today for just £13.50 – it's HALF OFF!
[mc4wp_form id="28909″]
Confirmation
We have sent you an activation link,
please click on this link to activate your account.