Ingredients
70g softened unsalted butter
70g soft dark brown sugar
1 medium free-range egg
Dash of vanilla extract
70g plain flour
2 Lindt Lindor Salted Caramel Truffles or other caramel chips
Heavy cream/ice cream for serving
You will also need
2 non-stick mini pudding molds (approx. 5cm x 8cm/225ml), lightly greased

Method
Heat the oven to 160°C convection/gas 4. Using an electric mixer, beat the butter and sugar with a pinch of salt until soft and combined. Beat the egg, vanilla and then the flour. The mixture should be spoonful.
Divide most of the mixture between the molds, then place a Lindor (or other chocolate) in the middle and cover with the rest. Wipe the inside rim of the molds with your thumb or a clean cloth (to help the puddings to rise – see Preparation in advance). Bake for 18 minutes, then unmold and serve with cream or ice cream.
delicious. advice
Divide mixture and Lindor Balls between pans, cover, then store at room temperature for a few hours or refrigerate for up to 1 day. Cook an additional 3-4 minutes if cool.
Subscribe to our magazine
Subscribe to delicious. HALF PRICE magazine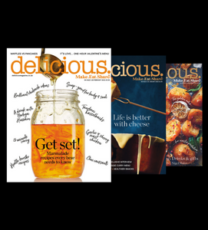 Join our newsletter
Filled with menu ideas, recipes, latest contests and more…
Lost my password
Enter the email address associated with your
account, and we'll send you a link to reset your
the password.
Email sent
If an account was found for this email address,
we have emailed you instructions on how to reset your
the password.
Thank you for subscribing to our newsletter
Now you can stay up to date with all the latest news, recipes and offers.
Subscribe to our magazine
Subscribe to delicious. today for just £13.50 – it's HALF OFF!
[mc4wp_form id="28909″]
Confirmation
We have sent you an activation link,
please click on this link to activate your account.