Ingredients
2 small eggplants, cut into 2.5 cm pieces
2 red onions, quartered
2 red bell peppers, seeded and cut into large strips
4 garlic cloves, finely chopped
5 tablespoons of olive oil
450g zucchini, sliced
225g of fresh lasagna sheets
50 g finely grated vegetarian parmesan
For the sauce
900ml semi-skimmed milk
60g sunflower margarine
70g plain flour
125 g semi-fat hard cheese with a strong taste, such as vegetarian cheddar, coarsely grated
Method
Preheat the oven to 220°C/fan oven 200°C/gas 7. Mix the aubergines, onions, peppers, garlic, 3 tablespoons of oil and a little seasoning in a bowl. Transfer to a large roasting pan and bake for 30 minutes or until tender.
Meanwhile, heat the remaining oil in a large skillet. Sauté the zucchini over high heat for 4 minutes, until golden brown. Pour onto a plate lined with paper towel and set aside.
Remove the roasted vegetables from the oven. Stir in zucchini. Lower the oven to 200°C/ventilation 180°C/gas 6.
Prepare the sauce. Bring the milk to a boil in a saucepan, then set aside. Melt the margarine in a saucepan, add the flour and cook for 1 minute. Remove from fire. Gradually add the milk. Bring to a boil, stirring, then simmer gently for 10 minutes, stirring occasionally.
Cook the lasagna according to package instructions, separating the sheets and draining them on a clean kitchen towel.
Add the cheese to the sauce and season. Spread a thin layer on the bottom of a buttered 2.4-quart shallow baking dish. Cover with 4 lasagne sheets, overlapping them slightly. Top with half the vegetables, then a third of the remaining sauce and 4 more lasagne sheets. Repeat once more. Spread the rest of the sauce and sprinkle with parmesan.
Bake for 40 minutes, until golden and bubbly. Serve with a salad.
Subscribe to our magazine
Subscribe to delicious. HALF PRICE magazine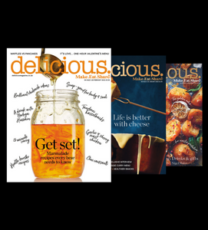 Join our newsletter
Filled with menu ideas, recipes, latest contests and more…
Lost my password
Enter the email address associated with your
account, and we'll send you a link to reset your
the password.
Email sent
If an account was found for this email address,
we have emailed you instructions on how to reset your
the password.
Thank you for subscribing to our newsletter
Now you can stay up to date with all the latest news, recipes and offers.
Subscribe to our magazine
Subscribe to delicious. today for just £13.50 – it's HALF OFF!
[mc4wp_form id="28909″]
Confirmation
We have sent you an activation link,
please click on this link to activate your account.