Ingredients
400 g dried beans or cannellini beans
3 tablespoons extra virgin olive oil
2 red onions, finely chopped
150 g pancetta or finely chopped smoked bacon
2 cloves of garlic, finely chopped
400 g crushed tomatoes
2 tablespoons dark muscovado sugar
3 tablespoons cider vinegar
Method
Soak the beans overnight. Drain them, put them in a saucepan, cover with fresh water and bring to a boil over medium heat. Cook for about 45 minutes to 1 hour until tender, then remove from heat and let sit for 30 minutes. Drain well.
Heat the oil in a large saucepan over medium heat, add the onions and pancetta and cook for 6-8 minutes. Stir in the garlic, tomatoes, sugar, vinegar and 400ml of water, then add the beans. Reduce heat to low and cook for 1½-2 hours, stirring occasionally, until you have a thick sauce and tender beans. Serve beans on toast with grated cheese, if desired.
Subscribe to our magazine
Subscribe to delicious. HALF PRICE magazine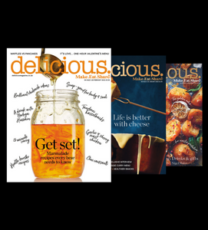 Join our newsletter
Filled with menu ideas, recipes, latest contests and more…
Lost my password
Enter the email address associated with your
account, and we'll send you a link to reset your
the password.
Email sent
If an account was found for this email address,
we have emailed you instructions on how to reset your
the password.
Thank you for subscribing to our newsletter
Now you can stay up to date with all the latest news, recipes and offers.
Subscribe to our magazine
Subscribe to delicious. today for just £13.50 – it's HALF OFF!
[mc4wp_form id="28909″]
Confirmation
We have sent you an activation link,
please click on this link to activate your account.